To pay attention and be genuinely interested in understanding
what the other person is thinking, feeling, wanting
or what the message means.
Greetings! Yesterday I said I my next post would be Wordless Wednesday but I've decided to jump on the band wagon of a little blog hopping!
If you are new to this blog I would suggest you check out these posts to see if this is the kind of blog you might be interested in following.
You see I am happily following everyone , per the rules of the blog hop, but I really don't want you to follow me unless you like what you see here! Of course I do hope you like it!! If you leave me a comment and ask for a follow I'll hop right over to your blog and follow you . I can't guarantee I'll read every post, heck some weeks I don't get to read anything, but I will check in from time to time! So without further ado let's get on to the hopping!
Follow Me Back Tuesday is another day of the week that you can gain more followers and find other great blogs to follow on a weekly basis. Follow Me Back Tuesday is hosted by
Survey Junkie
,
Little Yaya's
,
Review Retreat
and
Boobies, Babies & A Blog
.
Each week we will choose a random number every week from the blogs linked and add the random blog to the #5 spot to link to the following week ...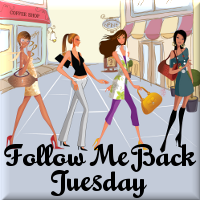 How it Works
Follow the 5 hosts, #1 – 5, ( leave us a comment & we will follow you back- only leave a comment if you follow please ).
Create a blog post about FMBT (you may copy this post if you wish).
Follow as many blogs as you would like ( Leave a comment so they can follow you back).
When you receive a comment from a new follower return the favor & follow them back.
***Please link directly to your Follow Me Back Tuesday Post. Links that lead directly to your personal blog hop will not be accepted and will be deleted.***
Next Post - Wordless Wednesday...really!
My Thirteen Virtues of Great Parenting are:
Fun, Discipline, Creativity, Love, Wonder, Listening, Curiosity,Compassion,
Trust, Acceptance, Empowerment, Humility and Flexibility
This week is all about Listening. Next week 's topic is Curiosity.