Topic of the Week
To think or speculate curiously.
The ability to see the miraculous or remarkable in everything.
I've been so quiet over here. I know. I know. Not a good idea to completely ignore your blog if you are even slightly interested in developing a following! Anyway, I haven't been entirely silent in the world of my web foot print. You see I've just discovered HubPages and I am entirely hooked. Have you heard of them? I feel like I must have been living under a rock to have missed them but I am hoping to make up for lost time!
HubPages are special one page web sites that you can write on specific topics that are of interest to you. Unlike a blog you are not confined to any one particular theme or interest. Sure in a personal blog I can tell you that I love a specific toy or share a cause I'm interested in but what makes hub pages unique is that the pages are stand alone. I don't know about you but when I write a great post it kind of makes me sad knowing that it will just become buried in my blog some where. With a blog things are only as good as the latest post. With HubPages I can make each standalone article it's own focus. I can promote it and make it the "Hub" or focal point on the web for my favorite things.
I'm really just getting started and I am so excited about the possibilities. One of the things that is very exciting to me is I can test out different topics and different SEO techniques on the hubpges and then apply the winning strategies over on my blog. There is also a way to make some money if you can write hubs that generate some traffic. I like that I can revisit my hub and make it better over time. Unlike a blog post a hub can evolve and grow.
My first hub
which I wrote on baby wearing is already generating a little bit of traffic and I had fun writing about something I believe in. My girl is getting too old for wrapping but I got to relive it in my hub and potentially help other people who are interested in using slings or wraps to carry their babies.
You can check out HubPages and my hubs by
going here
.
Next Post: Wordless Wednesday
Here are some hops I'm joining today!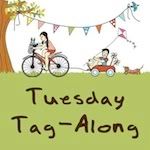 My Thirteen Virtues of Great Parenting are:
Fun, Discipline, Creativity, Love, Wonder, Listening, Curiosity,Compassion,
Trust, Acceptance, Empowerment, Humility and Flexibility
This week is all about Wonder. Next week 's topic is Listening.