Discipline
-
The ability to follow direction and the courage to do what is right.
Welcome to my first Discipline resource post. I am hoping to make this a useful and entertaining post. There are literally millions of resources on this topic but it would be silly to spend time listing them all! What I am endeavoring to do is locate a few resources that provide me with some sort of Aha! Moment with regard to encouraging discipline in my daughter. I offer the quote below as an indication of where I am starting. My parenting style would probably be classified as "lets give this a try today" and generally speaking I will forget what ever did or didn't work and then start all over again. I could perhaps blame this obvious failing on my advanced parental age but honestly I have never been very good on being consistant about anything.
Children are unpredictable.
You never know what inconsistency they're going to catch you in nex
t.
I'm fortunate that Sweets is generally an agreeable and happy little girl who is eager to please her parents. She has bouts of
three year old
that can prove very frustrating but a good night's sleep will restore the both of us to harmonious living. I am clear I can't count on this strategy forever and am hopeful that my search on this topic will net some good tools that even an addle brained gal like myself will be able to employ! This is where your help will come in! If you know of something you think could help me or someone else I definitely want to hear about it! Old and new posts, comments and recommended websites are all welcome!
This article which I found at Gagazine, is a good starting point. If I read this every week I might even develop some consistency!
This idea kind of reminded me of t
he Fred strategy
(
This post
, 4th fragment down tells the Fred Tale!) that finally had us be successful with potty training over here.
Funny take on Discipline from the child's perspective
Now it is up to you to help!! Please point me to anything you think might be useful! Add a Link, leave a comment, what ever works for you will be greatly appreciated. I will do a re-cap at the end of the week highlighting what we all come up with. All Linky entries will be revisited during the next Discipline week in thirteen weeks too!! I hope this means ongoing clicks to your corner of cyberspace!
Thank you in advance for all contributions!
Welcome Tuesday Tag-Along Friends!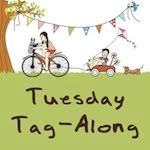 Next Post: Wordless Wednesday
My Thirteen Virtues of Great Parenting are:
Fun, Discipline, Creativity, Love, Wonder, Listening, Curiosity,Compassion,
Trust, Acceptance, Empowerment, Humility and Flexibility
This week is all about Discipline. Next week we take on Creativity